Residential Driveway Paving in NH and Mass
One of the many services Petra Paving offers is residential paving. We will take care of your driveway paving needs while being mindful of your property and your neighborhood. As a leader in the paving industry, we take pride in our ability to create a beautiful new driveway for your home. As a full service paving company, we will evaluate your specific driveway needs. If your driveway is beyond a simple overlay, we will remove the old asphalt and the old base then replace it with new base material and a new asphalt surface. We are dedicated to the details of the job, from beginning to end.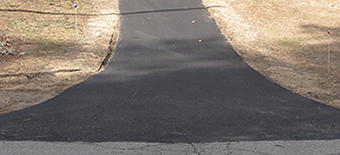 Resurfacing & Overlays
An overlay is when new hot top is applied over your old hot top. Low areas are shimmed flush prior to the installation of the new hot top. The thickness of the overlay may vary from 1" to as much as 2", depending on the condition of the old driveway. Overlays should not be done if the existing hot top is already flush with garage floors, patios, stairs, etc.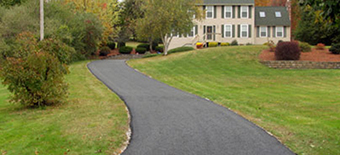 Two Inch Binder Coat
This application is 2" of coarse binder. The binder is typically the first step in your paving process. You can leave the binder without an overlay for a short period of time but the overlay should be applied within 2-3 years after the binder has been installed. This application is recommended for homes still under renovation or new construction projects.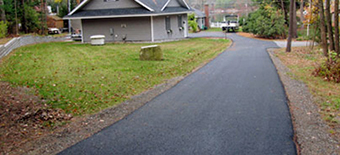 Two and a Half Inch One Coat
This application is very similar to the binder coat, except that it is slightly thicker and has more sand added to it so that the finish is less porous. This will allow you to let this application sit longer than just an ordinary 2" binder coat before needing to install the overlay. This is our most common residential paving application.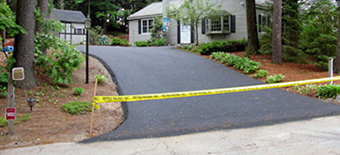 Three Inch Two Coat
This application is two inches of binder with a one inch finish coat. It is our top of the line application. The layering of asphalt provides added strength for your driveway. This application is good for heavy traffic driveways or driveways with adverse conditions. A three inch two coat is also recommended for commercial parking lots.